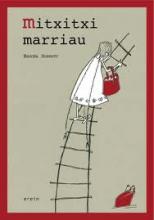 The graphic rendering of the traditional story with the same name collected by JM Satrustegi comes in the form of a picture book. This is a raw story full of symbolism: on a superficial level it depicts the concerns of hunger, cannibalism and cruel parents, whereas on a deeper level it speaks about the oral drive of children.
The core of the story is about a mother who kills her son and gives him to his father to eat. The brother will come back to life thanks to the efforts of his sister.
The text, close to theoral style, is without any adornment.
In the book entitled "The Sackful of Ashes", Juan Kruz Igerabide offers us a more complete version of the same story.