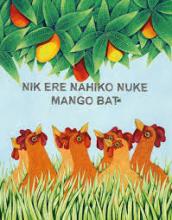 Diversity in the family model and respect for difference are proclaimed in this story in hardback format and using an optimistic tone.
The main characters are the grandparents Teandra and Luisinho who live in Brazil. They live in a cottage. They have a lovely mango tree growing beside the house and several hens. The hens lay eggs, and after keeping them warm, chicks hatch. However, one hen does not manage to lay any eggs. What should she do? A novel solution will be found.
The illustrations are adapted to the text. The images are large and striking and contribute greatly towards accentuating the reality.