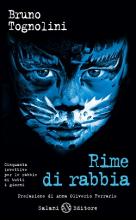 Title in English:
Rhymes to work off one's anger
This poetry book comprises fifty invectives that explore the greatest anger experienced by the youngest and the small aggravations of adults.   These angry, bitter, hilarious, painful and exaggerated poems offer children a wide range of words to express how they feel.  They help the youngest face their anger in everyday life, while at the same time allowing the reader to think about why they feel such anger. By reading these rhymes, the tenseness of the child slowly eases with the healing power of the words.  A quotation from William Blake at the start of the book is the perfect starting point from which to meditate on our primary emotions.
I was angry with my friend:
I told my wrath, my wrath did end.
I was angry with my foe:
I told it not, my wrath did grow.