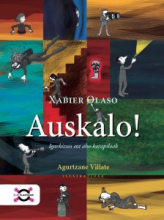 This is the second edition –the first one was out of print- of a book to play and enjoy. Its pages are filled of riddles and puns. So the book is an invitation to the readers to play with the riddles, to shed light on mistery, to find out the maze that is hidden among the words … and to enjoy and play with all of them.
Words and illustrations are the components of this book that invite the reader to find out the little misteries that are hidden in these pages.
This is a book for reader more than 4 years old. It was out of print but is a classic of Basque Children Literature. So that Pamiela reprinted it with the collaboration of Galtzagorri Elkartea and Basque Government.