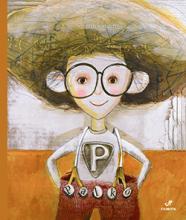 Twin books are a rarity, especially in children's literature. Lenka and Palko are two separate stories with a shared ending, the story of the meeting between a chubby little girl and a skinny little boy. They are suffering from the same thing – being cast out of the community of "normal" children. Their physical imperfection is the cause of their psychological problems, but only until the two meet and become friends.
These two books, published by Csimota Kiadó, form part of the Tolerance Series, which deals with subjects that will encourage children to show tolerance toward each other. The story of Lenka and Patrick shows children from the inside what it is like to be ostracized by their peers.
In the twin volumes, text and illustration are closely bound. The illustrations not only show readers what is happening, they take a part in the story telling itself.
Katalin Szegedi has been included in the IBBY Honour List and was a nominee for the Astrid Lindgren Memorial Award.