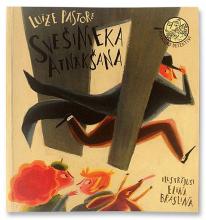 The small detectives Teo [a boy] and Poga [a girl] continue to investigate hidden secrets of artworks of the most well-known Latvian artists. This time it is Niklāvs Strunke and his painting "A Man who Enters the Room" that pull the detectives into the vortex of adventures.
For several weeks newspapers are reporting of a terror that has seized Rigans: a strange man in grey coat has appeared in the city, who goes through the walls of houses like a ghost. Detective Teo starts to investigate the case and meets the Grey Man face to face.
Following the smell of dust and the call of the Grey Man "Čau!", Teo with his partner Poga and her fat dachshund Comma go into the streets of Riga to find out whether art can rally step out of the dust-covered painting frames and take a walk in the streets of today's city. The art detectives will discover the secret of the Grey Man and will find out who introduced into Latvian the Italian greeting "Ciao!" (Čau!)
Luīze Pastore has received the annual International Jānis Baltvilks Award in Children's Literature for the first two books in the series. The artist of the series – Elīna Brasliņa.
More in series: The Missing Monkey, The Invisible Man.
 
Subtitle:
Sērija "Mākslas detektīvi" III grāmata
Subtitle in English:
Series "Art detectives", book III