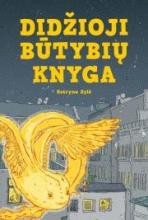 Title in English:
The big book of creatures
Have you ever wondered where our old mythological creatures have gone to? Maybe they are still living secretly right next to us? Kotryna Zylė (b. 1986), the author of this book, invites us to stop for a moment, listen and look around carefully. In her second book, she continues to reveal the secrets of the world of Lithuanian mythology. The reader will find illustrated descriptions of 26 Lithuanian mythological beings, their good and bad qualities, their adventures, and their current hideouts. The mysterious world of mythological creatures is rather intimidating, but at the same time it is cosy and familiar.
"Didžioji būtybių knyga" – Grand Prize Children's Books Category, Vilnius 2016 Book Art Competition.