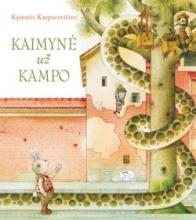 Title in English:
The neighbour round the corner
This is one the lasted picture books by the famous artist and writer Kęstutis Kasparavičius (b. 1954), telling the story of Pinknose the rabbit, who lives on the third floor of an old house, and loves reading scary books. He is particularly afraid of snakes, although he is yet to meet one. One day, an odd neighbour moves into the house, and Pinknose is quite curious to meet her. He follows her down many streets, hoping to come face with her. He runs along the maze of streets, meeting the interesting local people who make up the city, until finally he sees the incredible eyes of his neighbour... 
Kęstutis Kasparavičius ranks among Lithuania's leading contemporary artists, whose illustrations for children's books are published not only in Lithuania, but also in various European, Asian, North and South American countries.