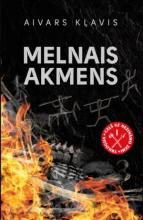 Series:
Trilogy "The road to the unknown land"
The book "The Black Stone" is the first part in young adults trilogy "The Road to the Unknown Land". It tells about how the ancestors of Baltic nations arrived to live on the shores of the Baltic sea – an epoch so ancient that even the history books keep mostly silent on it. The writer has, however, looked upon this time period as surprising, mystical and adventurous; his imagination was inspired by the fact that since the average longevity of people were short in comparison with current age, very young people must have played important role then. The story takes place simultaneously several thousand years ago in the tribal culture where a young boy is trusted with the task to lead his tribe to a better living spot, and nowadays when a teenage boy accidentally finds a black stone with mysterious ancient inscriptions and decides to find out what they mean.
 
Subtitle:
Pirmā grāmata. Triloģija "Ceļš uz nezināmo zemi"
Subtitle in English:
The first book. Trilogy "The road to the unknown land"