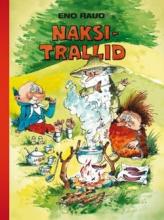 The four-part fairy tale series Three Jolly Fellows tells of the adventures of three small men in a world that borders on the fantastic: the composed and close-to-nature Mossbeard, the irritable city dweller Halfshoe, and the sensitive poet Muff.
The first two books deal with a chain of events caused by tampering with the laws of nature. An old woman's inexplicable love of cats has lured many felines to the city. Risking their lives, the diligent and ready-to-help fellows lure the gang of cats out of the city, with the result being trouble in both the city and nature. Rats take control in the city, all the birds are eaten in the forest, and as a result, the bugs begin their own destruction. Only through great trouble and danger to they manage to bring the cats back into the city and return balance to the environment.
Three Jolly Fellows I was first published in 1972 and was nominated for IBBY Honor List in 1974.