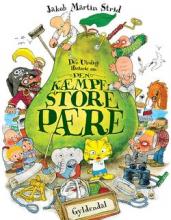 Title in English:
The Incredible Story of the Giant Pear
The two friends  Mitcho and Sebastian  fish up a drift bottle with a message.from the local mayor, who disappeared some time ago to the Mysterious island. They set upon  a long and dangerous journey . Will the Giant Pear be able to help them against the Frightful Pirats, the Terrifyng Sea-Dragon? And the Ink-black Sea?
A long chaptered picture book, and a humorous, anarchistic robinsonade for children.