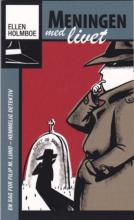 Series:
A case for Filip M. Lund - Secret Detective
Have you ever thought about the meaning of life? Filip has. But he does not just think about it. He starts investigating the case. Even though it comes close to cost him his life ...
Filip Marlow- Lund is a 10 years old boy who asks himself questions about the world.  And when there is something he does not understand, he sets about investigating the case – as a secret detective.
Why are boys crazy about foot-ball?
Why are people so afraid of the town's abandoned witch house?
Why are girls crazy about horses?
Why has his mother – sorry:  his luscious assistent –  no husband?
What is the meaning of life? 
What is that "little difference" all about?
Why is everyone så crazy with working-out after New  Year?
Who is Filip's father?
Why are so many people unhappy at Christmas, which is supposed to be the "Hearts' feast"?
Why are girls so crazy about boy bands?
Why do people run around in woods playing  roleplay games?
What is the point with camping holidays?
What is so thrilling about thrillers?
A series of sophisticated easy readers, full of puns and linguistic titbits, about life's big questions, in a graphic novel film noir style.