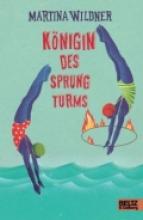 Title in English:
Queen of the diving platform
In this novel twelve-year-old Nadja tells in retrospect the story of her friendship with Karla. The two girls are neighbours and become friends when they start high diving at the age of six. They are both passionate about the sport, which dominates their life and is also the basis of their friendship. Nadja is fascinated by aloof Karla, who is an excellent diver, the "queen of the diving platform". She doesn't even mind always being the almost invisible number two next to her friend. But then, everything changes. Karla's jumps fail and Nadja wins. Nadja gets more and more independent and confident. Karla, however, stops high diving and eventually is able to reveal her secret, why she had to "pack her whole life into every single dive". The girls finally drift apart.
A psychologically convincing story of a shifting relationship located in the world of competitive sports. Winner of the German Children's Literature Award 2014, category children's books.