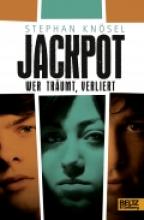 Title in English:
Jackpot. Those who dream, loose
Chris' life is not easy: His mother is dead, his father is being treated for drug addiction. As a result, he and his brother live alone and have to pinch pennies. One day Chris witnesses a car accident near his flat. He wants to help the unconscious driver – and finds a girl in the boot. She asks him to hide a bag she is carrying with her. Chris is reluctant, but when she tells him that there is a lot of money in the bag and that he will get a reward, he agrees. The next day the girl tries to contact Chris – without success. And she is not the only one who wants to find the bag. The police are on the trail of the money, too.
In addition to the light, informal language it is the narrative style that is special about Jackpot. Nothing is as it seems, there are a lot of exciting twists and turns and the reader is led down the garden path throughout the book. A compelling novel full of action and with an unexpected ending.