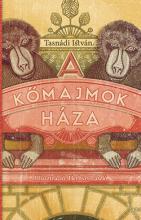 Title in English:
The House of the Stone Monkeys
The action proceeds along two tracks and two time frames, and yet one feels that the book is relating the alternative lives of the same protagonist.
We meet the boy, who lives with his mother in a Budapest apartment house, in the summer of 2012. He is Cornelius. He is suffering from asthma, and so is left out of many good things, such as playing soccer. His father is not with him; in fact, he doesn't even remember him.
Another boy is spending his vacation with his grandparents in the same building in the summer of 1982. He is George. He is the typical bad boy – he wanders off, sneaks into the movies to see "The Empire Strikes Back", and disturbs the quiet of the peaceful apartment house.
The house unveils its mysterious secret to both of them, for it turns out that it is inhabited by magicos being threatened by the murderous peritons, and their only protection is provided by the two stone monkeys standing guard above the main entrance. It further turns out that the little girl next door is really a salamander, her grandmother is a fairy, and Uncle Dragoman upstairs is, as his name indicates, a dragon.
The often sad reality clothed in the garbs of tales has a profound effect on both children, and at the end of the story, things come to fruiting with George and Cornelius, father and son, finding each other.
The book was awarded the Children's Book of the Year prize in 2012.