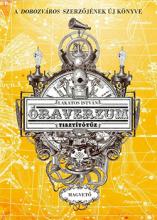 Clock Universe. Ancient, gigantic machine, operated by gear-wheels, mechanic solar system. Mirkó, Seon king's son spends most of his time alone walking in the secret corridors of the Citadelle.
His only friend is the lightheaded but smart aunt, Szaffi, who tinkers incredible machines in her free time. But everyday life becomes more exciting when steamboats appear in Seon's sky. People come to the planet from all over the Clock Universe to watch the spectacle of the century, the floating of giant creatures called air monsters.
From the tumult, his aunt sends the sick Mirkó to the Moon to his grandfather on the dicky ship of a scrappy company of comedians. But there is a problem with the machine that moves the Moon. Therefore, it may start as an exciting adventure but can turn into a nightmare.
István Lakatos, winner of Children's Book of the Year Award (for Dobozváros) proves again that his fantasy is endless. His second novel aims both children and adults telling stories about family, empty human relationships, buried secrets with sparkling humour and full of adventures.