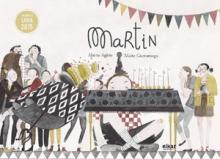 Martin is different, he's oddand he's special. At least, that's what many people think. The narrator also regards himself as special, he feels odd and different. Perhaps he is special because, unlike most people, he admires Martin; because he is Martin's best friend; because it seems to him that Martin is not different because he does odd things, but because he does amazing things. That is why he is very sad when Martin is sent to a special school.
This wonderful picture book on diversity, integration and marginalisation was awarded the Lazarillo Prize by the Spanish OEPLI organisation in its picture books section.
In this realistic picture book, the illustrations add nuances to the text, thus delving further into the characters and situations.