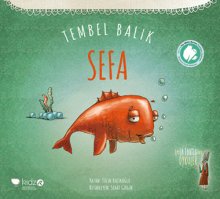 Tembel Balık Sefa (Lazy Fish Sefa) is a picture book from the series named Stories from Leyla Fontaine. Leyla Fontaine is the great-granddaughter of Jean de La Fontaine, author of numerous fables. She lives with nine animals and one of them is this very lazy fish named Sefa.
In this book, Leyla and the animals are preparing for a big fancy party that will be thrown in their house. They clean up the house, decorate it, write colorful invitations, and they even wear funny costumes. During these preparations, Sefa is either sleeping or resting. All of his friends know how lazy he is. He never wishes to get involved in tiring activities.
At the end of the story, after all the preparations are done, all the animals cheerfully say "Surprise!" and the reader finds out that it was the lazy fish's birthday! Sefa is so embarrassed for not helping his friends. His friends tell him how fun working together can be and it is not the time for being gloomy, so they dance and have fun at the birthday party.