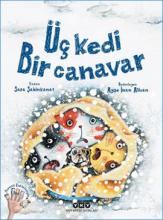 The Three Cats, One Monster, published by YKY is the second book of the "Three Cats..." series. Best buddies, Piti, Pati, Pus have already made their fans locally among 2-8 year olds.
The adventure of the three buddies in this colorfully pictured book starts with their first encounter with snow... their amusement and joyful plays in a winter street scene. Then, the expectance and excitement of a so called "monster" builds up in a very mild tension, which is relieved when the misperception is understood... Their vivid visions and unnecessary fear results in a happy resolution. An example of early judgement and misperception which we all experience in life... Monster is only the name of a boxer dog, who in the end will be a compassionate friend of our three heroes.
The couple Sahinkanat and Alican have created other succesful books and received awards from IBBY Turkey since 2009.