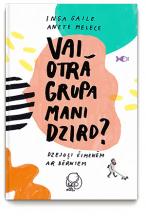 Title in English:
Can the back row hear me?
The collection, which is named after a 'battle cry' overheard by a tutor in a kindergarten, is an attempt to create a conceptually new type of book – the 'intersection of reading'.  
The daily life of the family is like a point of intersection in which the daily events and relationships of children and adults meet up. This book is a similar point of intersection that can be read by adults as well as children of all ages. It's filled with the experiences and observations of the children expressed in the emotional form of contemporary poetry that can serve as an impulse for conversations in the family.  
Inga Gaile is using the techniques of vers libre and prose–poems as well as poetry and nursery rhymes in the traditional metres. The book has witty illustrations, games, exercises and colouring pages as well as space for the readers' portraits and their own poems, allowing the book to become an opportunity for the children to express their creativity.