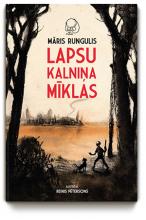 Title in English:
Mysteries of the Fox hill
A historical detective story for children, dealing with the fight of national partisans in Latvia after World War Two: the exciting story of boys' adventures serves the author's purpose of relating serious historical facts. The story is set in the Soviet era, in 1961. Two boys spending their spring vacations in the country take on the role of detectives to find the tame roe-buck that disappeared during a forest fire. The search leads them to other discoveries: a mysterious bunker on a swamp island and complex historical events. Eventually the boys' grandma and granddad also start to share their memories: it turns out that they had also been directly involved in the events.
For this book the author has won International Baltic Sea Region Jānis Baltvilks Prize in the Children's Literature and Book Art 2014 given by Latvian Section of IBBY.
Book recieved award in reading promotion programm "Children's Jury 2014", in the age group 11+.