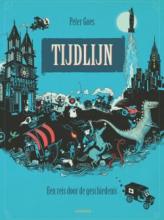 'Timeline' is a trip through time, past dinosaurs, Vikings, Aztecs and spaceships. It is an illustrated journey through our world's culture and events and travels from the Big Bang to the iPod. It looks at wars and disasters; introduces artists, explorers and leaders; shows us living in castles, yurts and skyscrapers. And it does not neglect the imagination - here too are dragons, mythical figures and TV characters, alongside world-changing inventions born from the imaginations of scientists and explorers. Each scene puts global events in perspective, in space and time.
Peter Goes constructs a continuous line, on which different historical periods make their appearance one by one. Only instead of a straight line, he pictures time as a winding river. His illustrations are packed with things to see and discover. They contain plenty of ingeniously visualized information, fun facts and funny details.  At the very end you see little figures with a pot of black paint, busily working on extending the timeline, 'as time goes by'. Winding in between the illustrations are short, informative texts.
For 10 years and up.