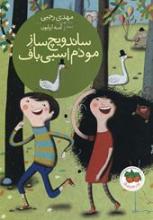 Title in English:
Sandwich machine, ponytail machine
Wishes are often very individual and surprising. Many people wish for something that they don't have or that they have been missing terribly and thus long for it. That's just what the four protagonists in this story feel: The boy is hungry and wishes he had a machine that prepares sandwiches. The girl is fed up with her wild, bushy hair and would rather have a smooth, straight ponytail. The lonely dog is longing for a person who takes care of it, and the sad lizard's dearest wish is to have its tail grow back. A magic machine is supposed to fulfil all of these wishes. So the four protagonists set off in search of this machine – and do actually find it!
The simple story by the multi-award-winning author is accompanied by dynamic colour illustrations. Full of imagination and witty details, they show a world in which lots of things are possible; a world in which there are no limits to imagination, wishes, and dreams.
For ages 6 and up.
Publisher's information: www.ofoqco.com; info@ofoqco.com.