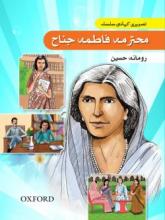 Fatima Jinnah was a dental surgeon, biographer, stateswoman and one of the leading founders of Pakistan. She devoted her life to her elder brother Quaid-e-Azam Mohammed Ali Jinnah. After the creation of Pakistan she played a significant role in the settlement of migrants. Later, after Quaid-e-Azamís death she played an active role in Pakistanís politics. In recognition of her services she is called Madar-e-Millat and Khatoon-e-Pakistan.
The biography of Mohtarma Fatima Jinnah in graphic novel form is a must read for all Pakistani children as it focuses on one of the most remarkable women Pakistan has produced. The story spans her life, her achievements and her unwavering devotion to her brother Muhammad Ali Jinnah and Pakistan.
For ages 9 and up.
Publisher's information: https://oup.com.pk.