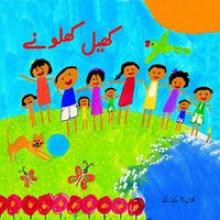 This book is a compilation of bright and colorful drawings made by children and vocabulary that describes the beauty of nature. There are more illustrations than words, such as, the word 'color' to go with a colorful image of flowers, butterflies and children, and so on a composition for each word or one line sentence.
The story is a look inside the child's mind, revealing concepts that are part of a child's real and fantasy world such as the yellow sun and blue water, red flowers and a green garden, the arrival of summer, a fat chick, the arrival of the school bus, what time is it?, the rain, songs, cars, food, a donkey cart and the moon.
For ages 6 and up.
Publisher's information: www.urdubooksforchildren.com or http://www.bookgroup.org.pk; info@bookgroup.org.pk.