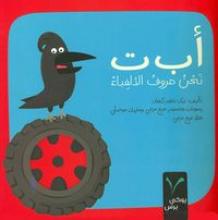 Title in English:
Abc: We are the letters of the alphabet
Illustrator:
Farah Mar'i and Marian Mawsili
A traditional picture book with a double page for each letter. On the right there's a short rhyming text that uses words beginning with that letter, and on the left there is a drawing illustrating the words in the text. The pages have alternating red and blue backgrounds. A well put-together book with rhythmic, amusing rhymes that could be easily sung or set to music.