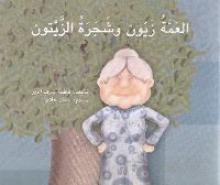 Title in English:
Aunty Zayyoun and the olive tree
Publisher:
Asala / Tamer Institute for Community Education
High up in a mountain-top village two lives run in parallel. There is Aunty Zayyoun who is a hundred years old and living in her little house. And there is an olive tree, more than three hundred years old. The two characters have a lot in common: they seem to have always been here, don't need much to eat, give away what they have, keep their secrets and survive the worst stormy weather. This is a very simple, poetic story, alternating in its account from one life to another. Its delicate and deliberately simple illustrations complement the strength of the poetry and gentle tone of this highly accessible story, all told through the voice of the characters. The text is fully vocalised.