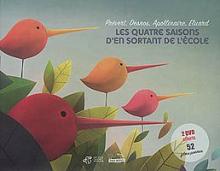 Title in English:
The four seasons of "On the way out from school"
Illustrator:
Students of film animation and directing
52 short animation films, created by young animation film directors, accompanied by a picture book, presenting through very beautiful graphic and poetical interpretations the works of Jacques Prévert, Guillaume Apollinaire, Robert Desnos and Paul Eluard, famous French poets of the 20th century. These illustrated poems are full of freshness and talent. Underneath the flps, on the sides of the book, technical explanations, information and analysis. A must have!