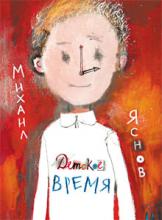 The book Children's Time is one of Mikhail Yasnov's most complete and representative collections of poems. It is a detailed «chronicle» of childhood.
Children have special relations with time. A child's whole life is tremendously full of events: happy, mysterious, frightening… Children's time has a possibility to stretch, shrink, jump or simply play, like children themselves play.
Mikhail Yasnov is a great fan and master of playing games with words and meanings. A game is a very important business. «Why don't I play a game about how I'm going to live from now on?» — this remark by a certain young philosopher most accurately expresses the essence of «children's time», which is given to a man in order to get adapted to the world. Gradually, invisibly, effortlessly — playfully! — Yasnov helps a child to develop his or her imagination, observation, the ability to think independently.
Illustrations by Yulia Bogatova emphasize the «peculiarity» of Yasnov's poetry. Complex colors, the use of diverse techniques not only create the mood adequate to the poems, but also deepen and widen the space of the book.
In 2007 Mikhail Yasnov's collection of poems Children's Time was named «Book of the Year» in the nomination «We grow up together with the book» and was also awarded the State Prize of the Government of Russia.