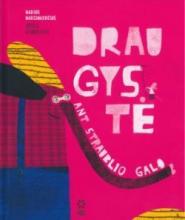 Title in English:
The Friendship on the Elephant's Trunk
Once upon a time lived a big elephant.  He had a huge house because it was a very big elephant. On the back of an elephant in a small house lived a mouse. The small house was enough for her because it was a very small mouse. The mouse and the elephant were the best friends. One day the mouse decided to find out why the elephant is her best friend. Find out this beautiful story of friendship that reveals the magic of storytelling. With amazing illustrations and charming text it will be the perfect bedtime story!
The Most Beautiful Book of the Year, Vilnius 2017 Book Art Competition.
Book of the Year for the Youngest Readers, Lithuanian Section of IBBY.
2017 Diploma The 5th Tallinn Illustrations Triennial.
Foreig sales: France, Rue du monde (World French Rights).