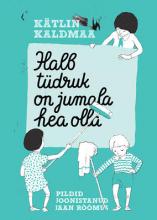 Title in English:
It's Damn Good to Be a Bad Girl
Eleven-year-old Li's mother and father are constantly out working in the barn and on the fields of the collective farm. Since Li is the oldest child, she is responsible for keeping an eye on her younger sister Lotta and her little brother Sass. Luckily, her neighbour Taavi – the girl's best friend – is also around. Left to their own devices, the children are always searching for things to do at home as well as in the nearby forests and meadows. Naturally, not all their adventures unfold safely.
Kätlin Kaldmaa (1970) is a poet, writer, translator, and literary critic. She is the President of Estonian PEN and the International Secretary of PEN International.
Jaan Rõõmus is a younger generation Estonian graphic designer and illustrator.