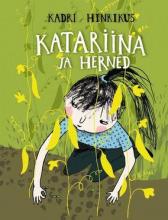 Lately, it's been rough going for Catherine. Her dad found a new partner and moved out, while her mom only has time and attention for her job. Now that summer break has arrived, busy little Catherine feels truly alone. But then, the girl meets Martin from her dad's new family, and also becomes friends with a fun old woman named Alice, who moves into the neighboring house. Together, they plant peas, start caring for the plants, and do all kinds of other entertaining things.
Kadri Hinrikus (1970) is a television news anchor, journalist, and children's writer.
Anne Pikkov (1974) is an illustrator, graphic designer, and book designer.