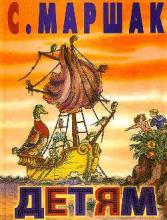 Illustrator:
V. Konashevich, V. Lebedev
Samuil Yakovlevich Marshak (1887—1964) is a classic of Russian literature for children.
The book presents a selection of poems, fairy tales, puzzles, and English folk songs, which were incredibly popular with children. These short stories in verse are rich in both content and form, and cover all the aspects of life accessible to a child. In Marshak's book of poems, the young reader will find both intricate jokes and serious ballads. The young reader will get familiar with the lyrical cycle All Year Round, fairy tales, and fantasy long poem The Fire. The poetic style of Marshak is close to conversational speech and full of amazing metaphors and vivid comparisons. That is why Marshak's poems are easy for children to memorize.