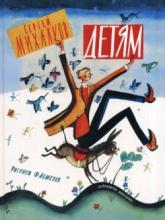 Publisher:
AST – Planeta detstva [The Planet of Childhood]
Sergey Mikhalkov's most popular poems for children are gathered in this book.
In our country everyone, young and old, knows the name and creative work of Sergey Vladimirovich Mikhalkov (1913-2009). Copies of his books are in every family library. Many years ago, the poet created Uncle Styopa – an exceptionally kind and extraordinary tall man, and wrote many other remarkable poems, fables, fairytales, and plays, which several generations of Russian children read and learned by heart. Mikhalkov's works sound modern and timely even today because they advocate truly universal values: good and justice, brotherhood and fidelity, love and compassion.
The book was designed by artist Fyodor Viktorovich Lemkul (1914-1995), one of the reformers of children's book, who dedicated his whole creative career to book illustrations.