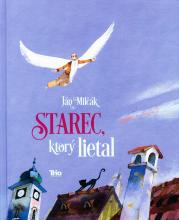 Title in English:
An Old Man, Who Was Flying
Illustrator:
Juraj Martiška and Maxima Martišková
A fairy tale about a magical countryside full of joy and secrets. The stories are accompanied by the flying old man with a pouch for memories. You will visit interesting places and on your way you will meet a little bird with a miraculous seed of wheat grain, musicians, a girl with gingery hair sitting in the cart dragged by a white billy goat, a quail that will feed you from a seed of vetch. And a tom cat Kilimandžáro, an old woman loooking for Death, a barn owl, a bee girl, and also a painter, whose paintings come to life. Even the writer with blue eyes. The character of the old man represents desires of a man: to see and know as much as possible, but also his miseries, particularly loneliness. Human characters live and act together with animals and plants. In this way the author succeeded in creating depiction of an ideal environment and atmosphere. Into this both fantasy and real world, the author imperceptibly composes the message that the young reader should see: the necessity to respect everything living. The book was awarded The Best Children's Book and The Most Beautiful Children's Book of the Autumn 2014. The book is supplemented by the guide Reading with Comprehension by Timotea Vráblová.