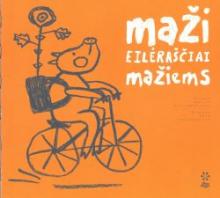 Title in English:
Small Poems for Little Ones
Selected for the Bologna Children's Book Fair Illustrators Exhibition 2019 Grand Prize, Children's Book Category, Vilnius 2018 Book Art Competition
Marius Marcinkevičius' poems for children are simple but special, using fluid, playful, humorous verse that is both modern and reflective of the classical Lithuanian children's literary tradition. Some of his poems employ a nonsensical aesthetic, poking fun and searching for laughter in any given situation, while in others the poet seems to gaze at the world through the eyes of a child – one who watches and marvels at the world around him, wondering, for example, how a cow can eat green grass but not give green milk. Illustrations done in chalk by the book's young illustrator are unique for the powerful simplicity of their imagery and the incorporation of absurdist details.
Marius Marcinkevičius (b. 1966) is the author of seven books for children. In 2017, his book Friendship on an Elephant's Trunk won IBBY Lithuania's Book of the Year Award for the Youngest Readers.
Rasa Jančiauskaitė (b. 1991) is a freelance illustrator. In 2018, she won first prize at the Sharjah Children's Book Illustrations Exhibition for her illustrated book project Summa. In 2016, she was awarded the main prize at the Clairvoyants 2016 Competition (in book publishing) from the Dwie Siostry publishing house in Poland for her illustrated book project Signs of Silence.