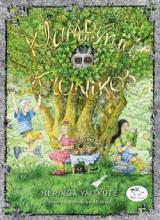 Little Swamptown, which one would be hard-pressed to come across by accident, is home to mythical creatures like fairies, sprites, boogeymen, where all sorts of miraculous and mysterious things take place. It is also the home of the twins Agata and Aringas and their little sister Smiltė. Living in such a strange place means a lot of adventure: encountering creatures that are not always friendly, getting mixed up in scary stories, and also learning valuable lessons about life and what is most important. The worlds created by Neringa Vaitkutė, best known for her fantasy trilogy for children and teenagers, are always colourful and full of adventures and surprises. Her language – lively, vivid and inventive – is quite special, too, which is why Swamptown comes alive before the eyes of every reader.
Nominated for the Book of the Year in 2018, Lithuania, in the children's reading category.
Best book of the Year by IBBY Lithuania 2018.
Neringa Vaitkutė (b. 1974) is a biology teacher and the author of eight books. Vaitkutė was a nominee in the best children's book category in the 2018 Book of the Year selection.