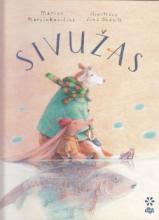 Two good friends, a cow and a piglet, love to enjoy the wonders of winter. The best thing to do on a winter's day is skating, of course. How wonderful that there's a frozen lake nearby! As they skate, the friends glimpse a monster beneath the ice. The monster seems to be writing them a note, but neither the cow nor the piglet can understand it, and begin to wonder if the monster is writing in a foreign language. Fortunately, they soon realize that the image they see is actually upside down, and that the monster beneath the ice is nothing but a simple fish asking for their help to get some fresh air. Two friends who set out to have a day's fun unexpectedly become heroes. This is a warm and sensitive story, and the tension which is created as we wonder whether the friends will understand what the monster is asking them, and whether they will be able to help in time, is truly captivating. The pastel colour palette and the meticulous, professional quality of the illustration display dedication and persistence as they reveal the true beauty of life.
Marius Marcinkevičius (b. 1966) is the author of six children's books. In 2017, his book Friendship on an Elephant's Trunk won the Best Book for the Youngest Readers award by IBBY Lithuania.
Lina Dūdaitė (b. 1974) is a freelance illustrator and actively participates in international exhibitions, festivals and book fairs. She was included on the IBBY Honour List in 2014 and twice received the IBBY Lithuanian Section diploma for Most Beautiful Book of the Year (in 2009 and 2012).
Book of the Year for the Youngest Readers, Lithuanian Section of IBBY.