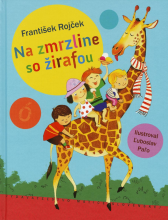 Title in English:
An Ice-Cream with a Giraffe
Publisher:
Vydavateľstvo Matice slovenskej
The author composed the book of poems, which are inspired mostly by the themes from ordinary situations from children's everyday experience and even typical episodes from school, playing games, home or trips. The poems carry fresh humour and playing with language.
The book was awarded The Best Children's Book of the Spring 2018.