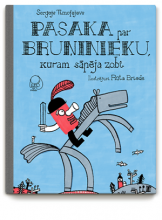 Title in English:
A tale of the knight who had a toothache
Once upon a time there lived a knight who loved to eat candies. Treacherous candies hurt the knight's teeth and he decided to fight them with his sword. Even though he had destroyed all candies in the kingdom his teeth didn't stop hurting. Eventually the knight had to take an advice from a little girl and go see a dentist. When the toothache was cured, the knight decided to change his career and begun to develop sugar-free candies.
The book is written in Russian, published both in Russian and in Latvian, translated by Jolanta Pētersone. It is the first bilingual book for children in Latvia.
This fairytale has also been staged in the Latvian Puppet Theatre.
Sergej Timofejev lives in Riga, writes in Russian, publishes his texts in bilingual Russian-Latvian books and continues to mix modern poetry with other art-forms and media. This is his debut in children's literature.