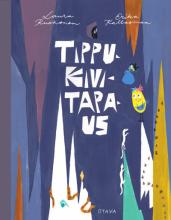 Tippukivitapaus ('Stalactite Case') is the third collection of anarchistic children's poetry by Laura Ruohonen and Erika Kallasmaa. It's is a poetry collection leading children and adults alike into a nonsense-spirited adventure. We'll visit Tiptoe Hotel, an unforgettable party, stormy seas and stalactite caves inhabited by pale olms. Some of the poems have a distinctive meter. All of the poems are repetitive and rhyming, reminding the reader of folk poetry. Reader is constantly awarded with unexpected puns and word plays. Tippukivitapaus is an explosion of imagination and unfathomable creativity with an intelligent sense of humour.
Illustrations by Kallasmaa take us from light to darkness, with glowing colours. Huge waves and a shiny lighthouse, sharp stalactites in the dark caves, and birds like jewels act as a backdrop to adventures of creatures like Seija Soija (Seija the Soy Bean), Diktaatta (the Dictator) and Rämeämmä (Swamp Hag).
Tippukivitapaus has also been adapted into a musical play for the Finnish National Theatre in 2017. The following year, Ruohonen was awarded Lea Award (best Finnish dramatic text) by the Finnish Playwrights and Screenwriters Guild for the Tippukivitapaus  playtext. In 2018, Anna-Mari Kähärä's music written for the play was awarded Best Children's Album by both Emma Gala Music Awards and Association for Early Childhood Music Teachers. The music and the scenery of the play are true to Ruohonen's original poetry and Kallasmaa's illustrations.