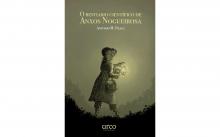 Title in English:
Anxos Nogueirosa's Scientific Bestiary
Place of publication:
Santiago de Compostela (A Coruña)
1933. At the age of thirteen, Suso is forced to spend the summer in the colonies of the maritime sanatorium in Oza because of his poor health. On the train journey to its summer destination, a notebook with a mysterious title on the cover arrives: liber bestiarium scientificus. When Suso decides to dive into its pages, he would never imagine that that moment will set a summer full of adventures accompanied by Tila, a girl from the colonies with whom he will end up forging a beautiful friendship.