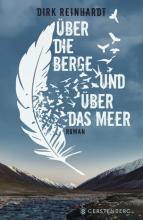 Title in English:
Over the Mountains and Over the Sea
Two teenagers threatened by the Taliban have to escape from their homes in Afghanistan. It wasn´t their choice to leave, they have to journey out into the world in order to survive.
The readers follow the two different refugee routes of Soraya and Tarek. Both face a lot of harassment and danger on the tough routes over the mountains to Turkey and over the sea to Germany. Nevertheless they find hope in supportive encounters and developing friendships. But it is obvious that it won´t be easy for Soraya and Tarek to adapt to life in Germany.
Although they are fictional characters they represent many young refugees.
It´s a well-researched, authentic book. Dirk Reinhardt shows different cultural backgrounds which help to understand refugees – it hurts but it´s so important. He wrote a thrilling, touching novel, one won´t forget!