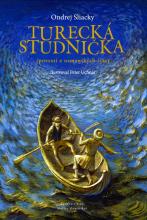 Publisher:
Vydavateľstvo Matice slovenskej
The Turkish Well is a unique collection of folk-tales written by Ondrej Sliacky, who is a writer and a literary scholar and historian of the literature for children and youth. The plot contains the period of the invasions of the Ottoman Empire to the land of the current Slovakia. The author's language is rich and inspiring in drawing the young readers closer to the folk-tales. The stories are supplemented with excellent illustrations by Peter Uchnár, which are typical in their expressive attribute (magic, spontaneity, existential dismalness or gloom), depth and dynamics.
The book was awarded The Most Beautiful Children's Book and The Best Children's Book of the Spring 2019.