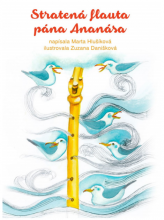 Title in English:
The Lost Flute of Mr. Ananas
A fairy-tale book for younger readers, whose main characters are a concert flute and a distracted musician Ananas. The author anchored the story on the character of the flute and not on the musician Ananas. In this way, she created a psychologically interesting story for children. A change in the life situation or a violation of a safe stereotype can cause even an experienced concert flute to feel stressed.
The book was awarded The Best Children's Book of the Autumn 2019.