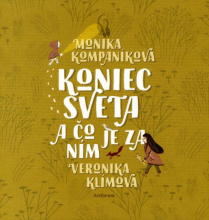 Title in English:
At the End of the World and Beyond
The story depicts a life of a socially lower class, single-parent family. However, the author presents it in a playful way that does not burden the children's reader. The siblings Tim and Ema are left alone in the evening, while their Mom works as a hotel cleaner at night. Every evening they go to play in the elevator shaft. One day they find there a surprise: the entomologist Adam, who goes to the roof to observe insects. Narration is focused on developing relationships. The relationship between the siblings is strengthened. And a new relationship with Adam is also developing. The question is who Adam shall continue to be in their lives. Because Adam enters into the life of the whole family. An unusual ending for children is an open ending. It offers the child the space to end the story at their own discretion. The contrast between the poverty and wealth is also sensitively carried throughout the story. The author inserts into the narration some parts that reminds us of non-fiction. Adam introduces children to the issue of insect life. His interpretation, however, does not seem mentoring. The author presents it in such a way that it expresses a child's desire for information and adventurous storytelling.
The book was the part of the Winning Collection in the Competition The Most Beautiful Children's Book of Slovakia in 2019.