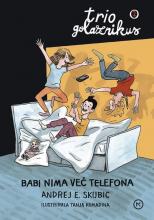 Title in English:
THE PESKY TRIO: GRANNY NO LONGER HAS A PHONE
Publisher:
MLADINSKA KNJIGA PUBLISHING HOUSE
The second in an already very popular 8-book series in Slovenia evolves around three friends and their everyday lives. Each book tackles a new exciting adventure, full of joy and also troubles, which are always successfully overcome in the end. In this story, Liam has a new phone. Tomaž and Lija are surprised he was given such a present for no reason. When they visit his home, they wonder why, in addition to an old noo noo blanket and a stuffed lemur, there is also a plastic doll on his bed. They begin to tease him, but the doll is just something to remember his granny by. All this leads to an argument. How will they resolve it? Will the Pesky Trio survive? The book received the Golden Pear Award for excellence, the 2019 Večernica award and was nominated for Desetnica award for children's fiction. Andrej E. Skubic is predominantly a writer of adult fiction; The Pesky Trio series is his first literary work for children.  Tanja Komadina is one of the best Slovene illustrators; both authors are recipients of multiple literary and art awards.