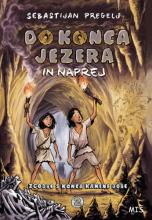 Title in English:
Stories from the End of the Stone Age 2: To the Lake and Beyond
Series:
Stories from the End of the Stone Age
This is a series about one of the most adventurous eras in Slovenian history: the age of pile dwellers. They lived in settlements built on wooden piles rammed into the lake floor in the Ljubljana Marshes. The main character, little boy Brin, is a member of a large family of pile dwellers. He is very curious and doubts the knowledge of his elders. He does not believe that behind the high mountains lies the end of the world. His adventurous spirit takes him far from his home pile, where he and his friend Črna meet new, unknown tribes and experience different adventures. In the second part of the book, entitled To the Lake and Beyond, they take a dangerous path to the faraway lake and beyond, bringing home important new findings and forming new friendships.