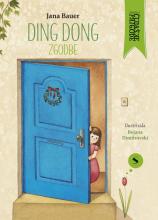 Publisher:
KUD Sodobnost International
Ding dong, the doorbell rings. Who's there? Oh, a knight stopped by, and then ninjas, pirates, a witch, a merman and an alien. What a surprise!
This unusual, original and extremely funny book engages readers in a rich, imaginative game. The story is full of intertextual elements known from the literary canon and accompanied by beautiful illustrations.  
The book can be read from both sides—one represents the girl's and the other the boy's point of view.