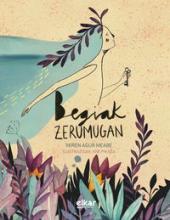 The author has chosen 68 short poems divided into four parts. The text is the voice of a traveler who narrates his journey from darkness to light, and explores the geography of feeling.
Interspersed with these 68 poems, there are also 48 rhymed outlines. These aphorisms are small maps, helping to determine the orientation of the traveler. But not through the ordinary geography, but through the internal circumstances. These circumstances are sometimes exposed, sometimes hidden.
The subjects cultivated in this book of poetry are many: some of them are abstract –freedom, mourning, forgiveness, daring–, and others concrete, such as the light of the sea, the stars, the sea, the ashes.
Miren Agur Meabe has a long poetic career, and this book is a work of great musical and lyrical meaning. Besides, it has a highly careful edition, an example of this is the fold-out map that is published in the book. This is a book that allows young people approach poetry.